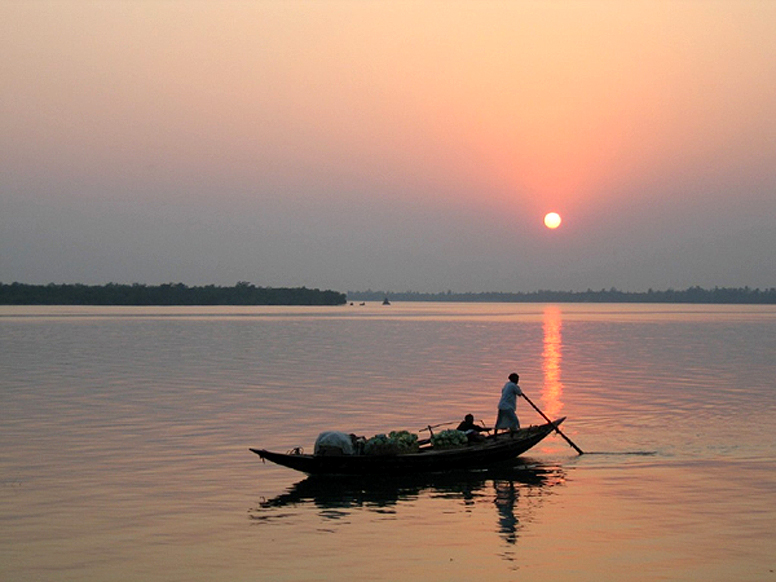 Photo: Alison Bowen, England
We offer personalised tours to the Sunderbans and local villages. With us you can go when you want and need not have to follow the dictates of a large organised tour. We stay in a local hotel, book launches for the times you want and spend time travelling and walking through local villages.

You stay in the comfort of your own room, on land and are not trapped in a compound but are free to wander the local area, exploring as you wish.

We travel to the Sunderbans by car and you negotiate the length of the tour with us. Most people choose to travel to our hotel by car and boat as this is the most comfortable. For those who do not mind a very bumpy ride on a cycle van this is possible, dropping the boat ride from the journey, but the local roads can be poorly maintained and the ride less than easy.

It is always better to go at times away from the weekends as this is the time many Indians choose to visit the area. It can thus be crowded and noisy. Whether you want to visit the Sunderbans Tiger Reserve or just get away from the city and experience the calm and beauty of a Bengali village this is the experience for you.

Dear friends,
Just returned from the Sunderbans...maybe it is easier if I just give you impressions... Left from our hotel in Kolkata at 8.30AM to travel by hire car to a river port where the main road ends. Then we boarded a local boat for the rest of the journey, passing local villages along the way ....stayed in a local hotel opposite the Tiger Reserve, comfortable and clean by local standards ...stayed one full day and two nights...three days in all....full day occupied largely by a 4 hour launch trip into the Sunderbans with a short walk into the forest and a watchtower... longer trips are available...most time is spent sitting on the launch under the cover of a cotton cloth gazing out into the forest...we did see a few animals and birds but definitely not a tiger...after lunch we had a nap and then went on a village walk for a couple of hours... really fascinating ..I found this just as interesting as the Sunderbans boat ride ....both nights were spent mainly in the hotel reading and talking but the local village bazaar has its interests and we sometimes wandered down to the market centre for a tea or local snack...
Sunderbans Impressions