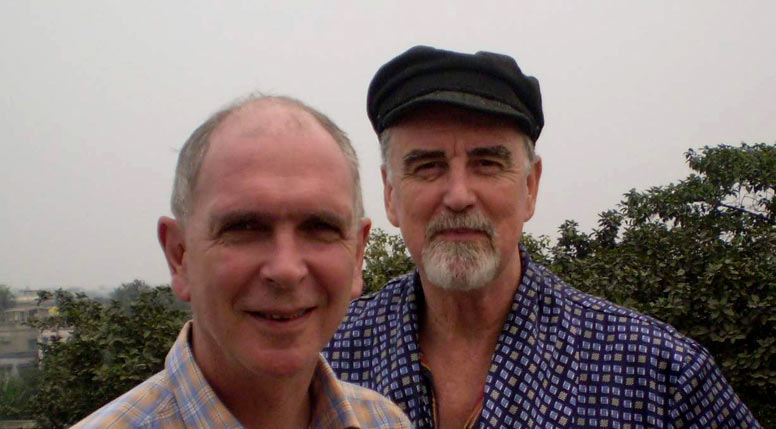 We're not like everybody else.
Your tour leaders :
David Rowe and Martyn Brown are responsible for the design and marketing of each tour and will be your tour leaders. Their interest in India goes back to the mid 1970ís when they first came here, separately, as travelers. Their backgrounds are in secondary and tertiary education in Australia as well as art, music, the restaurant trade, counseling, health education, language teaching in China and social work. They've hiked over much of the sub - continent and most other continents as well. They look forward to your company and the chance to show you their home.

'We met up while teaching in Melbourne and discovered a shared interest in India during the early nineties. David had spent some time studying music in Tamil Nadu and Martyn had visited West Bengal some 10 times before starting the business here. By the mid eighties it was time to end an illustrious full time teaching career and start a new venture. Having India and travel as a shared interest and background a tour company in Kolkata seemed the logical step.

We arrived to set up our company in Kolkata in 1996 and started business in January 1998. Since then we have run small tours all over West Bengal and to other parts of eastern India. We usually return to Australia during the hotter months to continue work there and make contact with our families and friends.

We urge people looking to come on a tour or just a short city walk to give us a bit of a clue about who you are, your interests and focus for your India travels. It helps us to better tailor the service to your needs'.
David and a snacky lunch, Kolkata

Vyron Perelis, our friend and main
photographic contributor.
Dave on a train

Martyn with Andrew from Adelaide

Martyn and a prawn in China

© Kali Travel Home Pvt. Ltd. All Rights Reserved. Developed By