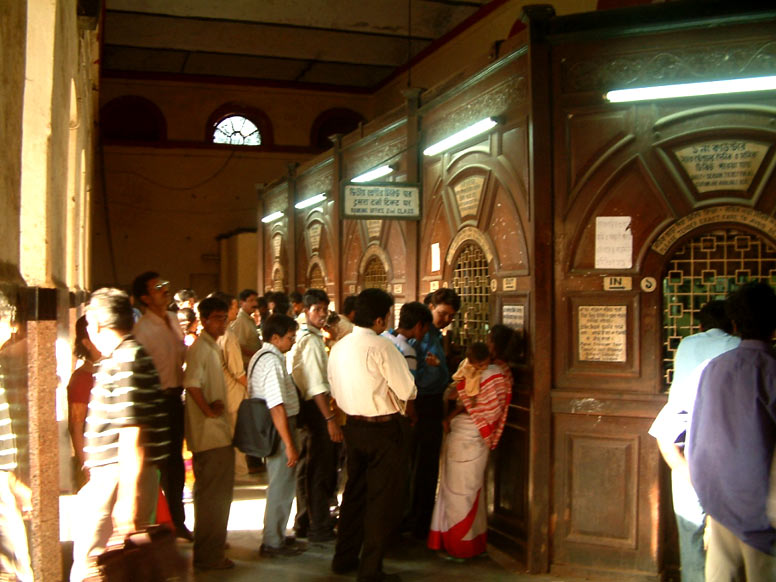 Photo: Vyron Perelis, Greece
What our guests wanted from their tours and what they said at the end.
Anne Marie Maltby ... A Dentist from Australia on a Food and Culture Tour with her partner Michael. Anne's primary focus was to learn some authentic Indian recipes so she wanted to cook Indian food in the homes of Indian families as well as to taste some of the best food India has to offer in the restaurants and homes of Kolkata. They also took the opportunity to visit an island in the delta and meet village Bengalis and join in on local activities. Anne - Marie was asked to present the prizes at the local sports day meet and we boated through the waterways of the delta by day and night. We hope to see them back soon for some trekking.
| | |
| --- | --- |
| | "We would recommend this trip to anyone - particularly people who enjoy getting to know local people and their culture. It provides a very personal experience not always available in "package tours" and without it costing an arm and a leg (in fact it's ridiculously cheap).This trip was like visiting easygoing, interesting and caring friends in a foreign place who have the interest and time to show you what they love about their adopted home but without the pressure of being a 'guest'. Martyn and David are exceptional hosts who just want to make sure that you enjoy yourselves"."The Sunderbans were unreal. We had to keep pinching ourselves". "David and Martyn were terrific at orienting us to the place. |
They are both really interesting and very kind people and I think that they actually genuinely care more about doing the tours for interest than for the money (not that it isn't a factor of course)".
Markus Hollenstein ... A history teacher from Switzerland, Markus had specific interests in his 6 day tour to Kolkata. He wanted to meet local political figures and see for himself the way a bustee or shanty town is organized. We walked all over the city, looking at the British influence, the great Palaces that were built by the Bengali elite, the monuments to empire and the hovels of the poor. Markus donated educational material to the families in one bustee and spent Christmas lunch with a poor Christian family in a tiny tenement room.

"The whole travel was very, very, very interesting. When I remember Calcutta I must say,
it was really something very impressive relating to structures of a metropolis - poverty, problems of environment, traffic - You explained me Calcutta in a very informative and interesting manner it was, once again, a perfect tour. I hope you continue your activities".
| | |
| --- | --- |
| | Tim Wise ... Postal worker from the United States. Tim was on a world tour and wanted his one week stay in Kolkata with his partner to be packed with things to do and all arranged before hand and especially wanted to go to places the usual tour organizers did not go. Tim had come to India with his partner Joyce but after September 11 she decided to return home to the U.S. But this was Tim's lifetime adventure and he stayed on. We traveled all over the city, Tim especially liked the working men's bars, a complete change from the up market bars he'd been popping into during his own travels. An easy going guy he quickly made friends wherever he went as you can see from his visit to a local market. |
We spent a couple of days in a village out of Kolkata, cycling and visiting homes of the locals. The only words we got from Tim were written on the inside cover of a photo album he left for us as he raced off to further adventures on his own. "Martyn, thanks again and again for an oh so excellent time!!! When I look now at pictures of some of the things we did.......whew! I put on the back of each picture where in the city or village it was taken....So come to the States and we'll do it again....Tim"
Martin Brown, (no relation to Martyn Brown) IT Systems designer and Mark Openshaw, Government Administrator, both from Sydney came on a food and culture tour that also took in the Sunderbans. They had asked for a few special items to be added to their tour including visits to the ageing Tollygunge Film Studios and a range of art galleries and craft markets.
Mark : "Calcutta gourmet food tour is an excellent way to spend time in one of the world's great cities and meet its citizens. Thoroughly recommended". As for Calcutta..." I like the place. Far more Raj - British than anywhere else in India I've been. Calcutta people seem very friendly too". As to improving our service and organization "...it's fine as it is''.
| | |
| --- | --- |
| | Martin : "I have truly enjoyed the experience. I was a little apprehensive returning to India and Calcutta in particular and the experience far exceeded my expectations". Martin wrote that his best experience was, "being told I have good legs". We can't imagine who would have said that. As to service and organization, ''...both are excellent''. |
Brian Pleasants ... English artist and retired IBM personnel manager. Brian wanted locations to sketch and spaces to work in his free time. His art tour took in the streets and galleries of Kolkata as well as a trip to the holy city of Varanasi. We put him up in a flat attached to a gallery where he met the art world of Kolkata as they passed through. On his return home he wrote a report to friends. These are some excerpts.

For two weeks I was to benefit from this intimate insight as I traveled with one or the other
to a wide range of locations, from lowest slums to highest palaces. An added bonus was that having listened to my artistic needs they ensured the sites visited provided appropriate material for me to record people, places and things in my travel journal; which for me was the highest priority. My accommodation overlooking the holy river was ideal, with of course the prescribed table, chair and lamp. In my remaining days I continued to be guided by either Martyn or David and on two occasions was invited along with them into homes of friends, to eat at their tables, join in meaningful discussions and I was able to observe life in Bengali households.
I have been asked if I liked India. On my brief excursion I have to say I was intrigued, fascinated and totally captivated by my visit, especially, as apart from my guides I saw no other Western faces except a few backpackers in Varanasi. I avoided drinking water out of a tap but that apart I ate and drank everything put before me and never contracted the dreaded Delhi Belly. I would not have changed anything, not even the dreaded train ride. My guides became friends and we had many laughs together ...

On his luxury stop over in Singapore on the way home... "it was all very boring after Calcutta. Thanks to you both for making my visit everything I had hoped for".

Two of our guests who have returned to tour with us a second time are Bob and Cheryl Nobrega from the U.S. In a card Cheryl sent on leaving she wrote, 'Bob and I would like to thank you so much for such a wonderful time here in Kolkata. I especially enjoyed all our walks and talks. If I had not met you this trip would obviously not have been the same'.