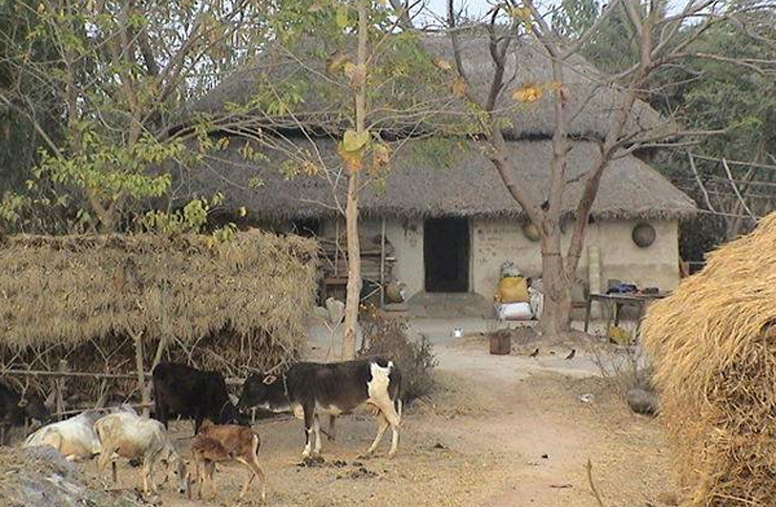 Photo: Vyron Perelis, Greece
Basudha is a small (1.5 acre) farm in the midst of paddy fields close to a forest in southwest Bengal, about 220 km from Kolkata. Come to stay in Basudha's adobe farmhouse, thatched with rice straw and enjoy the peace of the Bengali rural interior. Established in early 2002 as the research station for the Centre for Inter-disciplinary Studies (CIS), Basudha worked to conserve some of Bengal's vanishing rice varieties through the encouragement, demonstration and support of organic farming and traditional multiple cropping.

The research farm has moved to Orissa but the old farmhouse remains.

Basudha's two-storey farm house is an example of functional ecological architecture: built of adobe walls and thatched roof, the house is designed to minimize entry of sunlight in summer and allow enough sunlight to warm up the rooms in winter. To reduce the use of timber, doors and windows are made of wrought iron frames holding bamboo mats. With the aim to demonstrate low-cost building technologies to villagers, pillars and floors are built with traditional lime mortar instead of cement. The farmhouse is solar-powered with a light in each room.
What can you do on your visit?
| | |
| --- | --- |
| | Go on bicycle rides to explore the surrounding area. |
| | Visit the old town of Bishnupur (16 km from Basudha), famous for its temple architecture, terra-cotta sculptures and exquisite silk products. |
| | Take cooking lessons with village families. |
| | Taste simple local delicacies such as freshly-tapped date-palm sap (in the winter), palm sap (in the summer), and a variety of indigenous fruits. If you are a social drinker, you may enjoy rice beer, toddy and mahua (a spirit produced from the sweet flowers of Bassia Latifolia). |
| | Familiarize yourself with local flora and fauna. |
| | Experience cultural activities at Basudha and in the local villages. If you want to participate, add your contribution to such activities through your own songs, poems, or whatever. |
| | Take a stroll in the surrounding forest and experience the tranquillity of rural life. |
| | Take a swim in a local pond. |
| | Just relax, read a book, and watch the farm activities from your hammock. |
| | Visit "Abhibyakti", an art project at Chhandar village. |
Where you will stay
Situated 1 km from the nearest village, the farmhouse has a guest room with double bed accommodation with attached but shared bathroom. Another guest room with double bed accommodation is also available on request. We have sufficient bedding, however you may bring your own sleeping bag if you wish. The guest room has an electric fan. The arrangements are simple but comfortable, and your privacy will be preserved. Although mosquitoes are not a big problem, nets are provided. Basudha has a small stock of books: fiction, history, ecology, agriculture, anthropology and natural sciences. You may also borrow a pair of binoculars for bird watching.
Food
Simple and nutritious Bengali food will be prepared on our wood fuelled stove. A simple vegetarian diet is the staple but chicken is available on request.
Tour Requirements
The tour needs a minimum of two nights, three days of your time. It takes most of a day's travelling to get there so at least one full day is required to enjoy your time before returning. The tour can include hire car, luxury bus or A.C. train travel or transport by economy train and bus services. Tours need to be booked well in advance. For those requiring luxury travel, we will need an advanced booking fee. This tour can easily be added to a trip to Vishnapur. See Other Places
Bengali Village Impressions