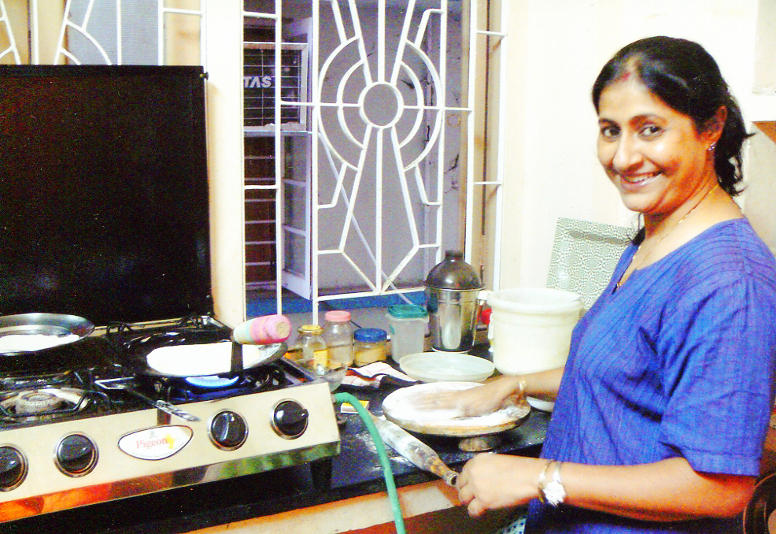 Photo: Vyron Perelis, Greece
Kolkata dazzles the sense, including the culinary. You know Tandoori and Moghul but do you know much about Bengali preparations?....shukto, loochi, mach-bhat or sundesh ? Learn to cook Bengali and other regional dishes in the homes of local Indian women.

A unique feature is that the menus have been determined by local Kolkatan women, your home presenters, who have expressed their pleasure in teaching you their favourite dishes in their own homes. Then, after you have prepared the dishes, you can sit down and enjoy the delicious products of your time in the kitchen.

By going into Bengali homes we gain intimate insights into the daily family life of a different culture and have the opportunity to make new and significant friends. The sessions provide the opportunity for a wider cultural exchange and you are encouraged to chat about a whole range of things that interest you about India in general.

You have the opportunity to have more than one session. Some people in the past have been so keen to learn more, they have had up to 4 sessions and have chosen each successive menu with the home presenter.

Now there are Class Choices.


Bengali Basics with conversation.
The Cooking Class is around 2 to 2 and a half hours per session, with one to three students with our teacher, in her home.

The class and meal covers:
Rice or Bread
Vegetarian or Non Vegetarian Dish (fish or chicken)
Vegetarian dish (can be a Dahl)
Chutney and Papad (Papadam)
Bengali Cooking Special with conversation.
The cooking class is around 3 to 3 and a half hours per session with one to three students with our teacher, in her home.

The class and meal covers:
Rice or a Special Bread (usually stuffed with a vegetable or lentil preparation)
Vegetarian or Non Vegetarian Dish (fish or chicken)
Vegetarian dish
A Dahl
Chutney and Papad (Papadam)
A Special Drink (non alcoholic)
For Both Classes
Usually we would take you by public transport to our home presenter after meeting you at your hotel and you make your way back to your hotel. This applies if you are staying in central Kolkata close to the Metro. If not we will make other arrangements.


We need to know well in advance:
Your desired date(s)
Number of classes
Number in class (usually 3 per class is a maximum)
Food choices (veg or veg with fish or chicken)
Class choices (Bengali Basic or Bengali Special)
Food aversions
Contact number (if possible)
Where you are staying (if known when booking)
Classes are booked on first come basis and a menu is set by the first to book.


Both Classes include:
Individualised tuition in the homes of an Indian women
A recipe booklet
Background information on Bengali cuisine
Usually taken by Metro Rail or other public transport to their homes.
You of course also get to eat the food you help prepare and meet your Indian teacher in a natural setting and talk about what ever interests you on your Indian travels.

The conversation after the lesson with our teacher is highly appreciated so feel free to take the opportunity to ask questions on Indian life and culture with a woman with great English and many interests.
A short overview
Bengali cuisine differs from those of other areas of India. This difference is based on the availability of many ingredients, which have flourished in a hot and humid region with a vast river system. The fertile soil produces abundant rice and a spectacular array of vegetables which are the staples of the diet. Add to these staples mangoes, bananas, coconuts and sugarcane, along with fish, milk and meat, then mix in yoghurt and spices such as panch poron (a five spice mix unique to Bengali cuisine), ginger and mustard oil and you start to get flavours not found elsewhere in India. Compared to other Indian cuisines, Bengali preparations seem softer and less heavy than some of the gravy based preparations found in the north and not as spicy hot as some South Indian food. The Bengalis are essentially rice eaters but bread preparations are also available. Fish has traditionally been the preferred meat but chicken and to a lesser extent lamb (read goat) are also popular. Their sweets are world famous with a sweet shop on nearly every corner.
Cooking Class Impressions