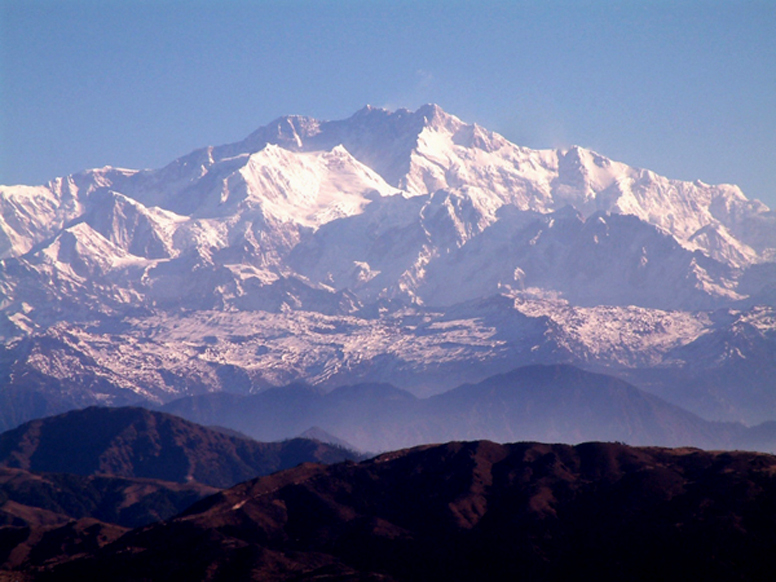 Photo: Vyron Perelis, Greece
Himalayan Walks... The walk of a lifetime
Tucked away in the north-west corner of West Bengal, on the borders of Nepal and Sikkim, is a series of walking/trekking tracks of immense beauty.

On jeep tracks and on hiking paths we walk through lower level forests (including rhododendron forests) and sporadic villages to the Singalila Ridge with its magnolia forest near the settlement of Sandakphu. You may choose to continue along the sparse, almost treeless ridge to Phalut, where the icy winds off the Himalayas have stunted the vegetation to almost bonsai proportions. From the first day's climb we gain spectacular views of the eastern Himalayas, with the over 8000 metre high colossus that is Kanchenjunga, the third highest mountain in the world, tantalizingly appearing and disappearing as we wend and climb our undulating way to the ridge. Then at Phalut, weather permitting, we can witness the mountain in all it's glory, surrounded by a host of lesser-known mountains, from a vantage point of only 30 kilometres away.

Many guests who have walked this route with us have commented on the variety of vegetation and the fact that each day offers the opportunity to walk through distinctly changing landscapes. Spring, when the flowers and forests are in bloom commences late February and the mountains are traditionally best observed between October and November. Now however the weather patterns are changing so we come prepared for the unexpected.

Accommodation along the way is in either government bungalows but mostly small Sherpa guesthouses. It is basic accommodation but clean. Where possible we prefer to stay with the local people in their small guesthouses. They are extensions of their own homes and we get the opportunity to glimpse the personal lives of these welcoming people.

Generally you need to be in good health to do this walk. There are occasional strenuous stretches but they are not long distances and we suggest people walk at a comfortable pace with many stops to enjoy the scenery. Much of the walk is easily negotiated and in some places a 'stroll in the park'. In preparation it's advisable to spend a couple of days in Darjeeling doing short walks around the town to acclimatise to the higher altitudes.

While most of the food is provided in the guesthouses in which we stay we usually take with us extra provisions to add some variety to our diet.

The walk can be a short experience of just a couple of nights. A full circuit, which would take in Gorkhey (on the Sikkhim border), Raman (on the Raman River) and Rimbik (a 6 hour jeep journey from Darjeeling), might be 6 nights out or longer if people wish to stay over for some nights.

This trip can easily be combined with a longer stay in Darjeeling (see Darjeeling) and there is also the option of adding a couple of days in Kalimpong (see Other Places).
Tour Requirements
The tour needs a minimum of two nights, three days of your time. It takes most of a days traveling to get there so at least one full day is required to enjoy your time before returning. The tour can include hire car, luxury bus or A.C. train travel or transport by economy train and bus services. Tours need to be booked well in advance. For those requiring luxury travel, we will need an advanced booking fee. This tour can easily be added to a trip to Vishnapur. See Other Places
Himalayan Walks Impressions