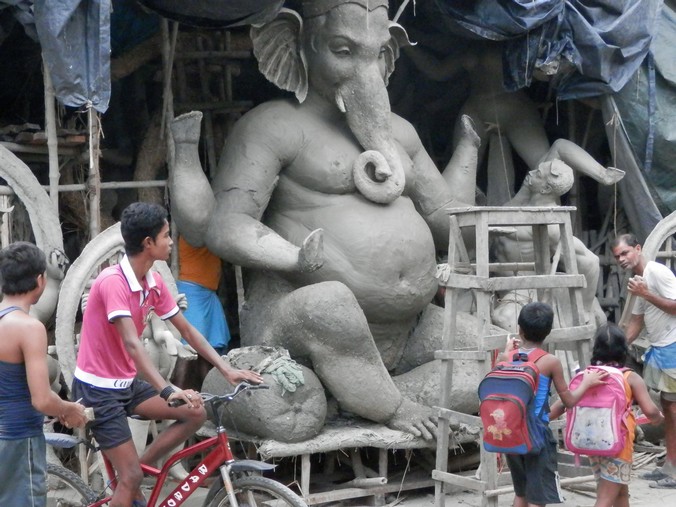 Kolkata short walks give you a taste of Kolkata without taking up half your day.

They are essentially the same as our longer four-hour walks but with a little editing so they usually will be complete in just under 3 hours.

If you are on a tight schedule or feel that four hours is just a little too long then these are the walks for you.

Coffee House and Bazaars to the Ganges, starts with a ride on one of Kolkata's beloved rickety trams to the famous old student coffee house where many a political plot has been hatched then proceeding to walk through a poor but vibrant Muslim community, on through a frenetic wholesale fruit market, into Burrabazaar with its small intense market streets, including the spice market and down to the river ghats, the majestic Howrah Bridge and the colourful craziness that is the flower market.

Night Walk… showcasing the vibrancy of life on the streets of Kolkata after dark. We explore the backstreets of the two major communities, a crowded Muslim and then a Hindu community, stopping here or there for a samosa or chai (or both!). We wend our way through an all night wholesale vegetable market observing the startling sight of teams of up to 6 men carrying 500 kilo bundles on their heads and then back through bustling Chandni Chowk and the New Market (the world's first supermarket?) as it closes down for the night.

The British Raj Walk is a little history lesson on how to invade a subcontinent and rule it. It explores the colonial beginnings of the city and is a template of all that is necessary for a colony to function, from the high gothic law courts, the Writer's building where young clerks were trained in the business of ruling, to Raj Bhavan, the home of the Governor Generals, the places of worship and essential commercial houses. It is a walk back to a more spacious and grander time but with reminders of a violent past.

Kolkata Kaleidoscope of Communities … takes in a poor inner city area with its myriad communities, including Muslims and Chinese, Hindus and Jains and remnants of a more cosmopolitan Calcutta with its Portugese Cathedral and Jewish Synagogues. We pass squatters and recyclers, tinsmiths and woodworkers, highlighting how these Calcuttans live and work side by side.

Palaces and where the gods are made... a walk back in time to a richer Calcutta when Indians could make a fortune and build palaces to rival their originals in Europe. We then wind our way through the crowded streets of North Kolkata to reach Kumartoli and the place where an enclave of artisans create fabulous images of the gods from bamboo, straw, mud, paint and fabric for the many religious festivals celebrated in the city.

Disappearing Kolkata…is a walk through the largely untouched streets of North Calcutta with the beginnings of modernity just starting to show. See it now, the rich streetscapes of a century ago, before they go. We visit a unique complex of Jain Temples on the walk, old palaces and stop off for a cup of tea and biscuits at an old 200 year-old home.