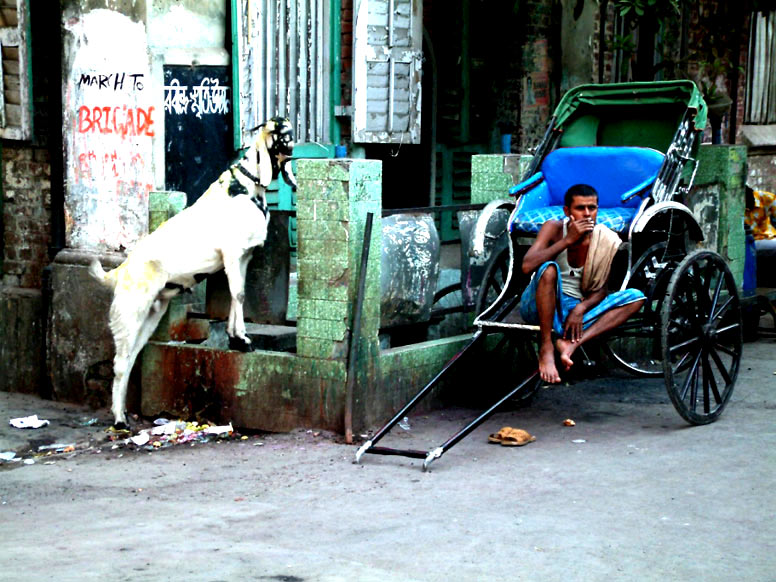 Photo: Vyron Perelis, Greece
Even if you're not booking with us but want some help while in Kolkata, don't hesitate to call or email.
At the Airport

The arrival terminal at Kolkata International Airport is new. A Pre-paid taxi service is available. You receive a slip on payment and present it to a man as you exit the terminal. You need not pay any more, at any stage, although you may be asked to do so. A taxi to the center of the city is around Rs 350/-.
---
Taxi Drivers

Insist on the driver using the meter unless you know the correct fare. They may not use their meter so try and find out from your hotel or locals approximately what the fare will be before you ride.
---
The Kolkata Metro Timetable

The Metro is a fast and usually efficient service that travels the length of the city on one line. It is faster than a taxi and much less expensive. Monday to Saturday the first trains leave from the south and the north stations at 6.00 AM. The last trains leave these stations at 9.45 PM. Early and late trains run at a 15 minute interval but drop to 7 or 8 minutes during peak times. Trains on Sunday do not commence service until 10.00am and end at 9.45 from the terminal stations. They run at 15 minute intervals. There are three main city price zones depending on distance travelled. Single, return and multiple ride tickets can be purchased. Trips to the new stations in the south put you into other fare zones but most travellers will not go to the most southern stations.
---
Other Transport

Auto Rickshaws ply on set shortish routes and the cost is usually no more than 6 to 9 rupees per ride. Train bookings are open two months before the date of travel. If you are planning a tour and want to book trains in advance then you need to make the bookings on the day they open for many routes. Web services like makemytrip.com have revolutionised how people book. You can book trains, flights and even some luxury bus services through these web pages from the comfort of your home. However managing the system as a foreigner from abroad can be difficult, as you have to register with Indian Rail first. See later info on booking from overseas.
---
Busy Periods

As in most countries Indians travel during holiday time in extra numbers. The end of the monsoon holiday period during October and November can be an extremely busy travel time. Booking rail and even air bookings at this time can be difficult for many destinations. Book as soon as possible and provide options if your first choice is not available.
---
Planning a tour

Some people tell us they want to see the Sunderbans and Darjeeling and do a cooking class all in 4 days. Distances between places can be long but also travel can be very slow. Roads are poor in places and waiting for connections can add a lot of time to a trip. A trip of 170 kms can take 5 hours or more. What looks like a day trip is better done in at least 2 days. It takes an overnight train and half the next day to get to Darjeeling from Kolkata travelling by train and jeep. It takes most of a day to get to the Sunderbans. Also remember that there is always a chance that your plane, train, bus or car will arrive at your destination late. This is so common as to be a factor in planning a tour. Try not to have one journey linked too closely to another in case you cannot make it to your second starting point in time. Also try and be aware of holidays that can also interfere with your travel plans. These days you can easily look up dates on the web. Also take into account the travel fatigue factor. Plan to do less rather than more. Many people devise plans which have them travelling every other day. Moving can be interesting but it is also taxing. Build relaxation places into your trip to give yourselves some quiet, peaceful time. Apart from some of these practical considerations it is worthwhile reflecting on your reasons for travel and how you might make the most of the experience. Too many people follow guide-books and not their existing passions. And of course we are here to help you build your tour.
---
Internal Flights

India now has a plethora of low cost domestic carriers. They are good value but there can be problems. Booking from overseas can be a problem and using international credit cards even here can involve you getting your home bank to guarantee your credentials. Things however have improved and we refer you to the new web pages that make booking easier. You may also face the problem of flights being cancelled especially on less popular routes. Usually you can get on to another carrier but this can mean delays.
---
Howrah

If you arrive at Howrah Station there are pre-paid cabs at an inflated price. If you have a light backpack you can catch a ferry across the river during the daytime (go by subway out of the station) and catch a cab from the other side of the river. Much cheaper. Also a pre paid system exists at Sealdah Station.
---
Money

Banks are slow. For cash and traveller's cheques, licensed money-changers abound and are fast and easy. There is a good legal money exchange on the first floor of the new complex in the New Market or in the street leading to the New Market from The Grand Hotel. Sudder St has many money changers and you just need to bargain to get he right price. Note that some places provide a slightly better rate if no receipt is required.
---
Credit Cards

ATMs work well and are bobbing up everywhere including on Chowringhee at Park St. and Esplanade metro station outlets. Getting cash is usually not a problem. Be careful however when you pay with a credit card. There has been widespread abuse of credit card information and foreigners with big credit limits can find themselves in trouble. Do not travel with a huge credit limit in your account and if you can, move money through your internet banking account into your credit account as you need it.
---
Bargaining

There are no formulas, you can't divide the asking price by 2 or 4 and offer your price. Some shops have fixed prices. Where you can, start and maybe stay with these. Try not to make an offer until you have shopped around to get a ballpark idea of the price and have walked away a couple of times. If it is a costly item go back over a period of time and see if the price changes. It is possible to bargain your hotel bill, especially prior to arrival and depending on the season.
---
Sudder St.

This is the backpacker's budget area with a few middle range hotels. Not a heavy place but it does attract touts out to make all sorts of deals with foreigners. It is not representative of the city, which, although diversified, is generally a little less pushy. Wifi cafes like Blue Sky now provide free internet connections for travellers.
---
Cheap Bars

Some cheaper bars will not serve women and have no female toilets. If you are after cheap drinks in bars that will serve you, Olly's Pub in Park St. (upstairs) is a good starting point or The New Cathay on Chowringhee close to the Grand Hotel entrance. The Cecil in Bowbazar does allow women and is well run by a Canadian Sikh. The Broadway on Ganesh Chandra Avenue is a lovely old pub, which welcomes women. Cheaper all male bars abound and can be interesting but are often none too clean with poor toilet facilities. The Chota Bristol behind the Metro cinema is a large old style bar and interesting. Country Liquor bars are for the brave.
---
What to wear

Looking like you are loaded is not always wise especially if you are out and about the streets at night. On the other hand, looking like a 'hippy' will exclude you from many potentially rewarding contacts with the locals. Of course it is your choice, but choosing to alienate large sections of the population does limit the range of contacts that can be made. Many Indians disapprove strongly of women showing too much flesh, although Bengali woman can show a fair bit of tummy. It may be unfair but it is the reality.
---
Security

Kolkata is still one of the safer big cities. You do need to be careful however. Travel with a couple of locks and a chain. On a train trip chain your luggage immediately on entering a carriage to the rack above and opposite you or beneath your legs. Do not carry anything of value in top pockets or small backpacks, especially in the back zip pocket. Pouches in the front do make sense for carrying valuables. Credit cards are increasingly the best way to carry money if you protect them. Some people travel with a phony wallet and long inside pockets for items not needed often. Carry a torch and have it handy at night. Con tricks come in many forms. "Just wait here and I'll go off and buy it for you," should raise alarm bells, but there are many variations. Photocopy airline tickets, passport and credit card details before you leave home and keep them separate.
---
Female Travellers

Women travelling without men are considered by some local men to be 'loose and available'. How convenient. Nevertheless it remains a perception, as does the one about women in the west liking 'free sex'. Again unfair but to avoid nasty situations consider dressing conservatively, avoiding crushes (including crowded transport), keeping to lit areas and carrying a heavy torch at night. Bengal is better in this regard than many other parts of India or Asia. If you are taking taxis, especially at night, pass on the number plate details to someone as you get in and let the taxi driver see you do this or pass it on in a mobile phone conversation, even if the phone does not work. This is more for your peace of mind than anything but probably a useful insurance policy. Don't be put off, many women travel alone here.
---
Gay and Lesbian

There is no organized gay or lesbian social scene as such. There are a couple of support groups however. Kolkata is even more conservative than most other metros. On 2 July 2009, the Delhi High Court decriminalised homosexual intercourse between consenting adults. However this was later reversed by the High Court of India, and homosexual acts are once again illegal. From time to time a bar becomes the in place especially for younger men. You can check with locals by going to any of the gay social networking sights that cover India. Men caught in cruising areas are subject to harassment and the mandatory bribe at the very least.
---
Phone and email

There are numerous Personal Call Offices (PCOs) allowing local, STD and ISD calls and some Cyber Cafes operating in the central city.
---
Mobile Phones

You can purchase local SIM cards for your own phone but make sure your phone is unlocked. You can also purchase an unlocked cell phone for a very small price. For people travelling for some weeks this is not a bad idea. You will need a passport photo and your passport (copy of key pages) and usually a letter from your hotel proving that you are staying there. You can then purchase a sim card with a very short validity period.
---
Enjoy the city and call if you need assistance.