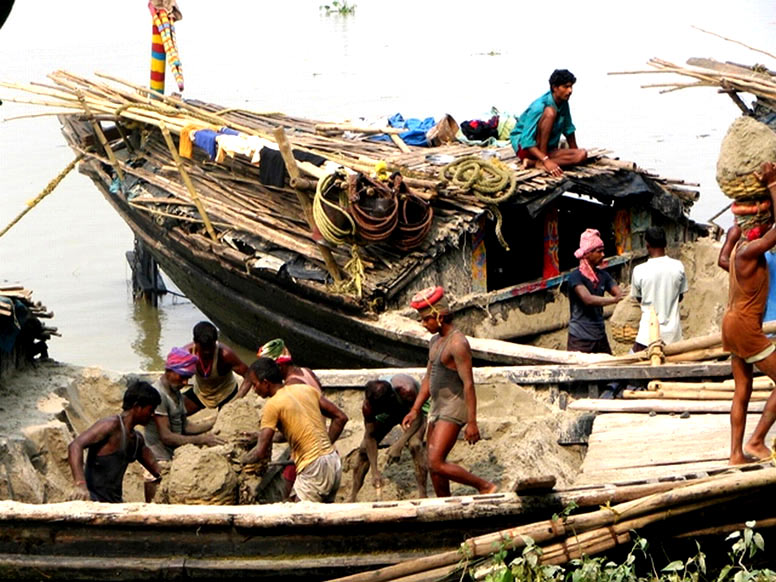 Photo: Cydra Womansculpture USA
You can combine some of our destinations and add many more of your own interests into a travel experience that suits you or your group. You might like to make sporting contacts with locals, play chess, discuss politics, visit schools, volunteer, stay in villages, learn about massage or traditional medicine, catch current concerts, contact locals with your work or hobby interests or a million other things that get you into the flow of the city or the rhythm of rural life. Or you might like to combine a number of existing destinations and create a tour at a time that suits you.
A Tailored Tour means
Enjoying one of our existing destinations at a time that suits your group or ...

Combining features from a number of destinations, e.g. take a cooking class, and a village trip and combine it with a city walk or ...

Adding to an existing destination something that reflects your own personal interests, e.g. take part in a Sunderbans tour and add your interest in volunteering or ...

Creating a tour with us that reflects all your own interests and that of your group, e.g. days spent sightseeing, learning massage, playing golf and experiencing village life etc. or enjoying a river cruise, visiting schools or ashrams, going to the races or concert halls.

You might like to spend some time with us and book onto another company's tour for the rest of your holiday.

All these are possible. This is a unique opportunity for you to get the most out of your travel experience. We live in eastern India and through email we can build up a tour that truly reflects your interests.

If we can't organize what you want we'll say so. A tailored tour puts you in control...kind of.
For most people the tour will probably combine some of our destinations
with some free time.

We can provide a full tour :
Arrange accommodation :
Arrange transport :
Guide you on your tour :
Provide meals :
Arrange onward bookings :



Or we can provide just some of these services.
Destinations











Other Group Ideas
Ease into India
Always wanted to go to India but felt you needed a helping hand getting started? Need a little initial support to deal with problems you've heard about? With '...Ease into India...' you can learn how to manage India with your friends, learn the ropes, the do's and don'ts and ...Ease into India, a land you will return to again and again. The tour can be for as long as you like, touring, practical instruction and plenty of contact with the locals. We'll explore the city and the countryside and run informal sessions, invite travelers and Indians to talk and answer questions.
We'll help you understand the culture and issues such as travel and communication, health and safety and basic survival skills, including language. Nothing heavy, more learning by doing and in a supportive, friendly and safe environment. Your tour guides are Australian teachers with a love of India and a dislike of formal classrooms. The emphasis is on fun, exploring and making friends as we learn.
Classes : Discussion groups, guest speakers, survival Hindi, your issues, cultural considerations, practical advice, held in informal settings... parks, cafes, pubs, lounge rooms.
Tours : Through Calcutta streets and markets, by day and by night and into the Bengali countryside, even further if you wish.
East India for Active Seniors
Since when did we gain much from sitting on our backsides and watching the world go by? We are not dead yet and travel does not have to be from the isolation of a seat in a tour bus. There is a world to explore and the only way to do that properly is to get into it. Come with us, (we are in our 50's) and travel down the Ganges Delta by boat, cycle through the Indian countryside, walk through Bengali villages and the pulsating enigma of Calcutta, and much more. We are open to your own travel ideas and together we will build a tour around them. The purpose of the tour is to explore eastern India by actively engaging with it rather than through passive observation. We will organize a range of activities that interest
you and put you into the heart of Indian life.That could include walks through Bengali villages or the side streets of Calcutta, bicycle rides through the countryside or a slow boat down the Ganges to the mangrove forests of its delta. We can explore tribal villages and/or play golf in Calcutta's Tollygunge Club or go to the racetrack. Or trek through the tea gardens of Darjeeling or the hill paths in the shadow of the highest mountains in the world. We go at your pace, resting each afternoon if you wish to build up energy for the evening meal at some great eatery on Park Street in Kolkata or a Sherpa village in the hills. Why not drinks on a veranda in Varanasi overlooking the ghats on the Ganges? On these tours we negotiate with you and try to decide what your interests are and how you would like to spend your time.
Impressions of Kolkata
Kolkata, once the second city of the British Empire, often maligned, rarely understood, atmospheric, pulsating, a city of contradictions, emotionally confronting ... an inspiration to any traveler. Ideal for an adult education art or media class we could visit many sites : temples, bazaars, gardens, the river and streets. We'll meet many people, some who'll share your interests and passions. Bring your sketch pad, camera, video, poet's pen, private journal or observer's eye and along with your group of similar searchers explore your feelings and record your impressions of this unique and remarkable place. We could also visit rural Bengal where we can experience the timelessness of the great Indian village.
Whatever your interest we will try to connect you to like - minded locals. And if you simply want to absorb the atmosphere of this fascinating city, this tour is for you too. We emphasize participation and involvement, including your say in the outline of the tour.
Sporting Tours
Do you belong to a cricket or a soccer or some other sports club and like the idea of designing a tour where you can play your sport with the locals and get a rare insight into a new culture at the same time. Are you a golfer or like the horses and would like to plan your trip to this part of the world around your sporting interests? Contact us and ask us what we can come up with for you.
Planning a tour
Some people tell us they want to see the Sunderbans and Darjeeling and do a cooking class all in 4 days.

Distances between places can be long but also travel can be very slow. Roads are poor in places and waiting for connections can add a lot of time to a trip. A trip of 170 kms can take 5 hours or more. What looks like a day trip is better done in at least 2 days. It takes an overnight train and half the next day to get to Darjeeling from Kolkata travelling by train and jeep. It takes most of a day to get to the Sunderbans.

Also remember that there is always a chance that your plane, train, bus or car will arrive at your destination late. This is so common as to be a factor in planning a tour. Try not to have one journey linked too closely to another in case you cannot make it to your second starting point in time.

Also try and be aware of holidays that can also interfere with your travel plans. These days you can easily look up dates on the web. Also take into account the travel fatique factor.

Plan to do less rather than more. Many people devise plans where they are travelling every other day. Moving can be interesting but it is also taxing. Build in relaxation places into your trip to give yourselves some quiet peaceful time.

Apart from some of these practical considerations it is worthwhile reflecting on your reasons for travel and how you might make the most of the experience. Too many people follow guide books and not there existing passions.

And of course we are here to help you build your tour.